The Powersports are a part of the well-known class motorsports. Some of the vehicles used in power sport are motorcycles, snowmobiles, personal watercraft (PWC), and ATVs. One of the core features of any power sport is the creative use of the engine, in one way or the other. Powersports vehicles also include the control of movement via handles and the riding the machine in a manner that the rider exposes himself to the elements around him. They have been famed as spectator sports, and with the launch of the X-Games.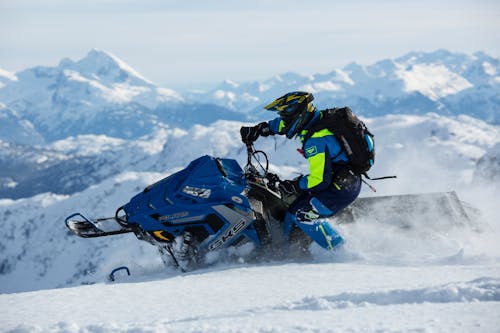 Powersports Vehicle Types
Watercraft
Personal watercraft or PWC for short also called water scooter, is a watercraft used for fun that the rider, rather than inside in case of a boat, sits or stands on. PWCs have two variants, first and most famed being a sitdown or runabout where the rider is mainly sitting down to use the watercraft, and the craft can hold two or more people. The other style is a "stand-up," where the rider stands up to use the watercraft.
Most watercraft would be seen as a ship or a boat. However, there are also many crafts that many people would hesitate to call it a boat or a ship, such as surfboards (when used as a paddleboard), underwater robots, seaplanes, and torpedoes. They are openly used in Powersports for the thrill.
Snowmobile
This vehicle is also known as a motor sled, sled, skimobile, snow scooter, or snowmachine. It is a motorized vehicle used for travel in winters and some fun on the snow. It is designed to be used on snow and ice and does not need a road or path. However, most of them are driven on open terrain or trails. Snowmobiling is a Powersports that many people are serious passion than a simple hobby.
Powersports Motorcycles
A motorcycle mainly called a bike, motorbike, or cycle is a two- or three-wheeled motorized machine. The design of these bikes can vary to adapt to many different uses: long-distance travel, driving, and riding. Powersports including races, and off-road travel. Motorcycling is an act of riding a bike along with social activities like attending events related to it.
All-Terrain Vehicles (ATVs)
An all-terrain vehicle or ATV in short, also called a quadricycle, three-wheeler, four-wheeler, four-track, or a quad. It is a vehicle that uses low-pressure tires, with a seat that is mounted by the rider, along with handles for control of the ride, according to the American National Standards Institute (ANSI). The name gives it away that it can handle a much wider variety of surfaces than most other machines.
The rider sits on and uses them like a motorbike; the added wheels provide a more stable ride at low speeds. Also, dirt bikes come in the domain of ATVs as they were meant for off-road events. Though most of them come with three to four wheels, a six-wheel model exists for particular uses.